June was a rough month for the stock market overall, with the S&P dropping 5.25%.   The ValueUncovered portfolio was hit hard as well, with several stocks dropping over 10% in the month.
This volatility is expected, as many of the stocks I invest in are micro-cap stocks with prices that vary significantly from day-to-day or even month-to-month.
Special Situations
One bright spot for the month was the completion of my first two special situations investments.  The UBET/CHDN merger wrapped up on June 4th, with returns of over 12% for a month long investment.  The VR tender offer also wrapped up in a few short weeks, with a 4.17% gain.
Pending special situations investments include the AHOM re-incorporation & merger and the EMMS going private transaction.
Portfolio Return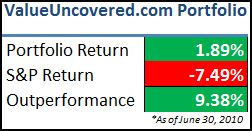 Despite the drop, the model portfolio is still positive and substantially outperforming the S&P.