After dropping 5.25% during the month of June, the S&P came back to gain 7.31% in July. The ValueUncovered portfolio turned out a positive month as well, although it did lag the broader market.
YTD Performance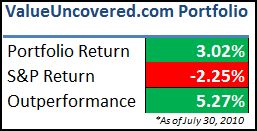 Earnings Roundup
July was a popular month for quarterly earnings, as several stocks reported results.
Iteris (ITI) reported solid earnings, with net income increasing 450% from the prior year quarter. Although Acme United (ACU) also reported a positive increase in profits, the jump was due largely to a one-time tax gain from 2009.
Both remain more than 30% below my estimate of intrinsic value.
Special Situations
The biggest worry in the current portfolio is the negative developments surrounding the EMMS going private transaction. While the recent judicial verdict was positive news, the deal remains on shaky footing, and the stock has dropped almost 10% over the past month.
EMMS's CEO, Jeff Smulyan, needs to quickly come up with an agreement with the preferred shareholder group, as continued delays will lead to nervous financial backers and the deal potentially falling apart all together.
I will be monitoring the situation very closely.
2010 2nd Half Outlook
I've continued to screen for businesses selling at a discount to intrinsic value, but haven't found many attractive opportunities.
I'm content to wait for the market to turn around, and will be aggressively pursuing special situations investments to round out the portfolio.
Disclosure
Long ITI, ACU, EMMS