Iteris Inc (ITI) reported fiscal second quarter results last week, building upon a solid first quarter.
The Sensor business remains on the upswing after an extremely difficult prior year, while Transportation Systems remains depressed due to uncertainty around governmental budgets.
Sales Highlights
Net sales and contract revenue for the fiscal second quarter was $14.1m, a 5.2% decrease compared to the year-ago quarter. Revenues within the Transportation Systems segment declined 18.5%, a slight moderation from the 19.3% decline in the previous quarter.
The Transportation Systems segment is contract-based through local, state, and federal governments. It therefore is highly dependent on government funding and can be highly volatile.
The future outlook for this segment is dependent on the passage of a new long-term Federal Highway Bill, which elapsed in 2009 and hasn't been re-authorized. However, according to the company's CEO, Abbas Mohaddes:
"While the second quarter's Transportation Systems revenue decreased, we expect this segment to contribute to our growth over the coming periods. This market is showing signs of increasing traction, as evidenced by new allocated federal and local funds for transportation projects resulting in expanded requests for proposals"
Overall, total revenues were basically flat compared to the prior year, but the company has improved its product mix towards higher margin products, leading to a significant increase on the bottom line.
Segment Breakdown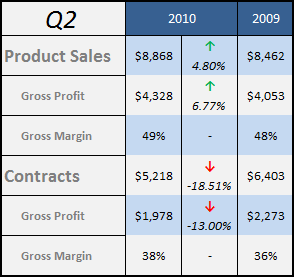 Overall, gross margins were 44.7% compared to 44.2% in the prior year quarter. Iteris managed to control expenses, reducing them slightly to $5.3m, a 1.9% decrease.
Balance Sheet
The company continues to generate significant free cash flow, evidenced by the increase in the cash balance to $12.3m as of September 30, 2010, compared to $10.4m on September 30, 2009, an 18% increase.
In the same period, long-term debt decreased by 30.8% to $2.05m, and the company has a $12m unused credit line.
However, the company does have a significant amount of intangibles and goodwill on the balance sheet, a possible yellow flag. The latest goodwill impairment test showed the Transportation Systems segment was assessed at only 10% above its carrying value.
Further declines in this segment could force Iteris to write down its investment, a scenario that needs to be monitored closely.
Outlook
During the quarter, the company announced a 5-year extension with DAF Trucks, N.V to continue offering Iteris's LDW system as a factory installed option on its heavy trucks.
In addition, Valeo, ITI's marketing partner, announced a new contract with an OEM car company to offer Iteris's lane departure warning (LDW) system as an option on two additional vehicles.
The LDW systems are currently only available on four Infiniti models, so this is a positive step towards returning to profitability in the Vehicle Sensors segment.
Final Thoughts
Joel Slutzky, one of Iteris's directors, had entered into a 10b5-1 trading plan starting in July to sell 8000 shares per month for the next year, a total of 96,000 shares.
There are many reasons why an insider would sell stock (negative outlook on the business, cash flow, taxes, etc), but I generally view disclosed trading plans over a set period of time as primarily diversification plays.
(i.e. if an insider had a negative short-term outlook, he or she would sell a lump of shares right away rather than spread them out over an entire year)
In this latest release, Iteris disclosed that Mr. Slutzky had canceled his share sales entirely after only four months, or 1/3 of the original plan.
Could this be a positive sign for the upcoming quarters? It remains to be seen…
Disclosure
Long ITI