Imagine my surprise this morning when I checked my charts: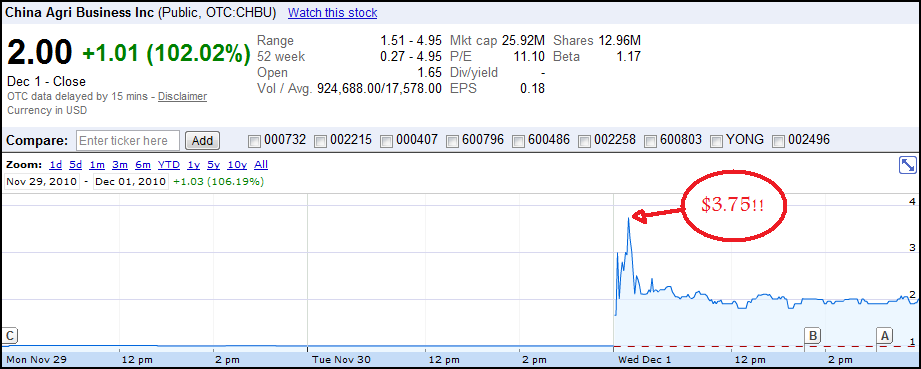 Right off the open, China Agri-Business (CHBU.OB) shot up almost 400% after closing the day before at less than $1.
Although the stock rose and fell in about an hour, it managed to close above $2 for a 102% gain in one day! Almost 1m shares traded hands, compared to an average of 17.5k.
I first covered CHBU back in June when the stock was trading at a significant discount to its net cash balance. It enjoyed a nice run-up to over $1 in the recent weeks, and I sold CHBU on November 24.
What a difference one day makes! Although I can't help but be disappointed that I missed out on a 100% gain (or even more!), I still feel my reasons for selling were valid.
The business has really taken off in the past six months and the stock had risen high above my conservative asset floor. With all of the recent scandals and fraud surrounding Chinese micro-caps, I felt it best to take my gains once CHBU turned into a growth/earnings play rather than a discount to NNWC.
Congratulations to anyone who was still long. I scoured the internet but cannot find any news or explanation for the sudden jump.
Please comment if you have any links or additional info on CHBU's sudden rise, as I'm dying to know!
Disclosure
No positions (unfortunately!)