I've mostly avoided financial services and banking stocks as the analysis is typically outside of my circle of competence. One of my readers focuses on this particular area, and was gracious enough to share his notes and due diligence process for investing in small community banks.
While this write-up isn't a buy or sell recommendation, it does provide a nice introduction to the thought process behind investing in banks. Please welcome Eric, an individual full-time value investor, for his wonderful insight and very thorough analysis (hence the two part series).
Introduction to Bank Investing
First, a word about small community banks. There are many different kind of banks, ranging in size from the gigantic money centered banks, to the more mid sized regional banks, to the smaller and in some cases downright tiny community banks. I like to focus more on community banks and thrifts (although I'll buy any size financial institution) because I feel like the most inefficiencies are there.
The community bank market is ridiculously fragmented, and rightly so. Unlike most industries, banks are largely uneffected by globalization, and actually experience more advantages by being small and local. A local bank can easily compete against a giant like Bank of America, as depositors are more likely to deposit their money with their local bankers, who may be their neighbors that they see around the community at church or local high school football games.
They are also much more likely to try harder to repay the loan they borrowed from their local bank, as opposed to some anonymous giant firm from New York city. Local branches and relationships are expensive and difficult to develop for the giant banks.
Social reciprocity and in group human behavior help create these diseconomies of scale, and shield community banks from the efficient, giant, and menacing goliaths that devour other industries, like the Wal Mart bloodbath that many small and local grocers have experienced.
For these reasons banking world will stay fragmented. Just how fragmented?
There are well over 1000 publicly traded banks with under $1 billion in assets in the US alone, and that's after the serious consolidation of recent years. Most of these firms are listed on the pinks or OTCBB, have little trading volume, and are too small for most investment funds, especially the larger/more successful ones, to invest in. Furthermore, these companies can be more complex, require more research, have business models that are pretty boring, and that can be very cyclical.
So we have a huge number of stocks that few people are analyzing or investing in, that are also cyclical, complex, boring, illiquid, and obscure.
If that's not a recipe for inefficiencies and misvaluations, I don't know what is.
There is also another interesting dynamic, unlike most tiny companies that plod along on the pink sheets, banks are heavily regulated and have to report to various government offices if they want to stay a bank. Some pink sheet stocks don't file with the SEC and are of course lacking exchange oversight, so information can be scarce, unreliable, or in some cases non existent.
However, banks are regularly audited and examined by the FDIC, and other government agencies like the OTS. This means that you get constant quarterly financial statement updates for even the smallest and quietest banks. It also makes fraud a lot less likely, and total fraud completely unlikely. For good info on any bank, one can go straight to the regulatory mouth, by doing a FDIC bank find.
Centrix Bank & Trust (CXBT.PK)
Centrix Bank & Trust (CXBT.PK) operates a good old fashioned community bank in Eastern New Hampshire. It got my attention, not because it is selling at a discount to book value or earnings, but because of their blistering growth.
Current market cap is around $43m.
Below is a list of Centrix's physical offices (all located in NH), when they were opened and some balance sheet numbers at their time of opening for the bank: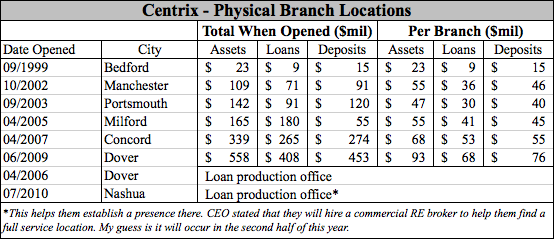 As one can see they are clearly expanding consistently into adjacent towns. All these are close to each other in eastern NH. If you're really interested you can type those cities into google maps and see where each one is.
Asset Quality
CXVT's asset quality is good. NPA's (non performing assets) are completely covered by loan loss reserves, almost exactly. Due to limited disclosure it's tough to dig deeper into NPA's to see if this is as conservative as it seems, but it likely is.
It appears that the company has had a policy of taking at a minimum 30-40 basis points of total loans into loan loss reserves every year even if they have no net chargeoffs. Because of this, reserves were built up very well before recession.
The worst year for chargeoffs was 2010, about 23 basis points of total loans were charged off. The worst year for chargeoffs is likely ahead of them, either this year or the next, as NPA's have gone from half a million dollars before the recession to $6 million now, and that will be worked through.
There will be chargeoffs but they are covered by reserves.
PPPT income is about 200-250 basis points of total loans depending on where NIM's and noninterest expenses are, so there is good earnings power to offset unseen loan problems, which is important. Bad loans oftentake a long time to cycle through until they are written or charged off. A company with a lot of earnings power can quickly earn their way out loan problems.
A poorly reserved bank with a ton of earnings flowing in can often deal with problem loans and chargeoffs better than a well reserved bank with little earnings.
Considering CXBT's blistering growth over the last decade, It's good to see that management has been able to grow loans at a pace fast enough to keep up with the deposit growth they've had, and yet haven't sacrificed lending standards, at least when it comes to loans.
The great recession was really a terrific test.
Take the 5 year period from the end of 2002 to the end 2007, a period in which the housing market really took off and bubbled up, Centrix's deposits went from about $91 million to about $250 million.
With all that cash coming in it must of been difficult to find conservative yet attractive loans to make given the competition/conditions. Centrix managed to put all that cash to work and then some, increasing total loans from $71 million to $309 million at the end of 2007. Safely loaning out that much money during a large housing bubble would be difficult, and the start of 2008 until now would seem like the ultimate test to see if lending was truly prudent.
Given the low level of NPA's and net chargeoffs Centrix has had, both absolutely and comparitive (I'll get to that more later) to banks in their area, they were clearly never taking excessive risks or lowering standards just to put money to work.
Centrix is well capitalized, with Tier 1 capital ratio of 9.6% and total capital ratio of 11.9%, both are considered well capitalized in the eyes of regulators. Their balance sheet looks more leveraged because of a leverage strategy they've been employing (I'll get to this later), and if they were to unwind that they would be more modestly leveraged.
Disclosure
No positions.