Greenbackd is a value investing blog focused on "Identifying undervalued asset situations with a catalyst."
From my own perspective, the importance of a catalyst is something I often overlook in many of these deep value situations, but it is an important factor in avoiding 'value traps' along the way to substainable long-term returns.
I was honored when I found out that my article on AMCON Distributing (DIT) was to be featured today.
Background
AMCON Distributing (DIT) is a micro-cap company with a market cap of only $34m and yet annual revenues of almost $1B.  This is an amazing relationship, and I would hazard a guess it's one of the most lopsided market cap to sales ratios in the investing universe.
The company has made significant progress in the past two years in turning around the business financials and prospects, and has recorded two consecutive years of record sales, profits, and FCF.  2010 is shaping up to be another banner year.
The stock suffers from extremely low float, providing an opportunity for the individual investor to profit from its mispricing.
Read the full article over at Greenbackd.
Google Finance as well?
Also, I was a bit startled to find that my post was linked directly from Google Finance's stock page for DIT!  See screenshot below: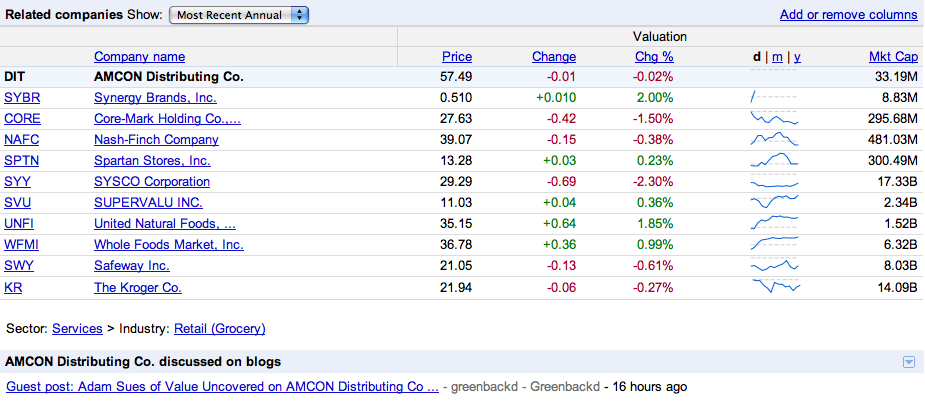 Check out the bottom line!
Value Uncovered Portfolio
I'm adding DIT to my Value Uncovered portfolio at today's closing price of $57.50.
Disclosure
Long DIT