Despite all of the fear and worry surrounding the markets, the S&P managed to finish flat on the year – but not without some extreme doses of volatility along the way. Many fundamental value investors fared even worse: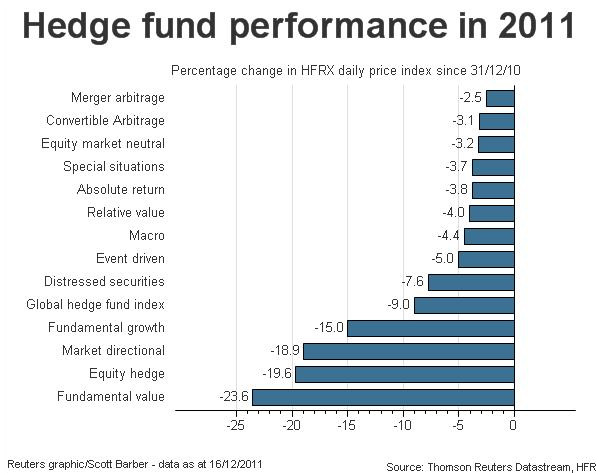 *Hat-tip to Greenbackd for originally posting the image
In light of this environment, I'm pleased with my portfolio's performance: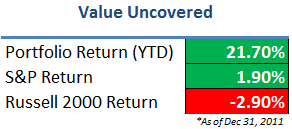 On a relative basis, 2011 turned out to be my best year, although I'm much more concerned about absolute performance.
A significant portion of my portfolio consists of microcap securities, and intra-day swings can be severe – both in the positive and negative direction.
This time, volatility landed on the positive side, as a 20% jump in my largest holding on the last day of the year added 300 basis points to overall results.
It is important to remember that this jump could have easily been in the opposite direction. So while the year-end cutoff is a convenient date for measuring performance, the results over a longer time period will be more representative of my stock selection abilities.
Portfolio Composition
My portfolio currently consists of 25 stocks, with the top 3 positions making up 33% of the portfolio.
The goal is to build a core section of around 5 or 6 'permanent' names, companies that are capable of compounding cash at high rates of return for the foreseeable future. I've broadened my research to include these high-quality candidates, and it's been a welcome change from the Graham-style of investing.
However, a significant portion of my time remains focused on the ultra-cheap, and I continue to build a basket of net-nets and other undiscovered/unlisted securities. In these small companies, diversification is important, and these companies are often so simple that it only takes an hour each quarter to stay up-to-date.
In addition, I will continue to search out special situations – currently 5% of the portfolio is invested in work-outs of some kind – and I have several I'm watching carefully for 2012.
The portfolio remains in a state of flux, as I rebalance and reshuffle legacy positions to match my investment philosophy.
2011 Highlights
I went back to school full-time to pursue a career in investment management. This was a huge step, and I'm excited to pursue my passion for investing. I'm actively looking for internship opportunities for this summer, so please contact me  if you have a lead in the industry or are open to networking.
Good luck to everyone in 2012!