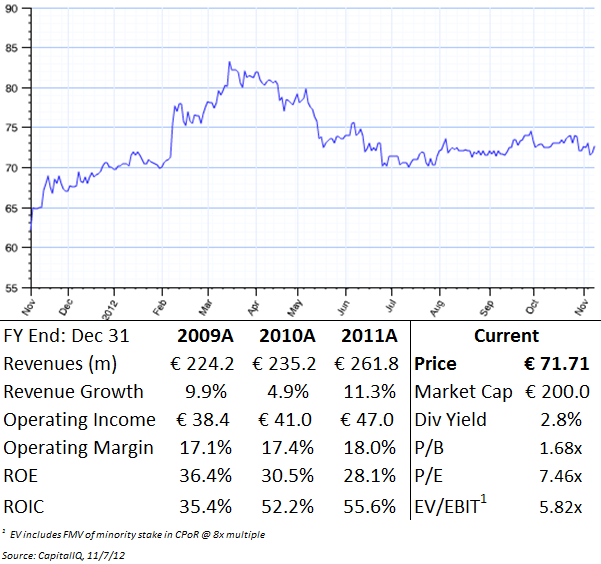 "Owner-operator companies are those controlled by a significant, typically the largest, shareholder. This is a person with a great deal, perhaps most, of their personal capital at risk in that business…Businesses managed by their founders and/or largest shareholders tend to have much more liquid balance sheets, are more opportunistic, and exhibit remarkably higher long-term results." – Murray Stahl, Chairman of FRMO Corp
Tessi (TES.PA) is a family-owned firm with a leading market position for high volume document processing in France.
Essentially, Tessi allows large companies to outsource the manual and often tedious task of handling and processing large volumes of physical documents. Through an acquisition, the company is also the leading wholesaler of gold and currency in France.
Operations are broken out into three business segments:
Document Processing – #1 market share leader in France for check processing and document digitization (converting physical checks or other documents to electronic form). While check processing is a declining business, the transition from physical-to-digital documents is a growth area. The company handles hundreds of millions of documents per year.
Core advantages: established customer relationships (why switch outsourcers in the middle of a 100 million document conversion?), available manpower, scale/efficiency
Marketing Services Operation – handles marketing functions such as redeeming rebates/coupons, processing customer gift fulfillments, executing mail campaign, and staffing call centers.
Core advantages: None really, lots of competition. Breakeven business but with a small "float" (see below)
CPoR Devises – acquired in 2005, CPoR is a broker of foreign currency and gold reserves, serving as the principal supplier in France. TES collects revenues from banks for holding reserves in its vaults, along with taking a fee for transactions between third parties.
Core advantages: sole supplier in France for these transactions, blessed by the French government, fixed investments in security/vaults, regulatory hurdles, reputation
Historical Track Record
Through a combination of acquisitions and organic growth, Tessi has turned in an enviable long-term track record under the current management team.
Since 2002, management has compounded revenues, operating income, and book value at 13%, 22% and 18% respectively.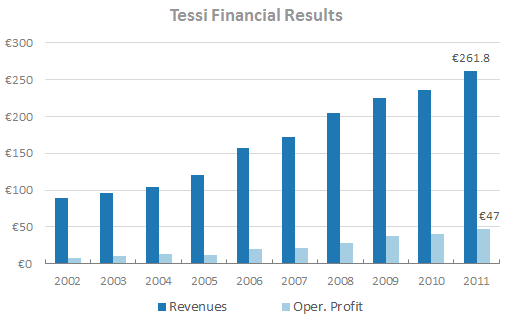 Much of the growth associated with Tessi's document/marketing businesses is due to acquisitions, as the company has taken out smaller competitors (scale is important in this business) and branched out into ancillary services.
These acquisitions are usually the 'bolt-on' variety, most often between €1-20 million in sales, a size capable of being easily integrated into Tessi's infrastructure.
High Quality Business
Tessi's businesses are attractive in two major ways:
1) The "float" from the marketing division – While Tessi has no competitive advantage in this space (as evidenced by the breakeven result), the marketing operation is setup so that customers prepay for campaigns, but consumer redemptions often occur weeks or months later.
Assuming TES signs on new customers, this cash advance reduces the need for external financing (effectively, Tessi can self-finance part of operations) – this marketing "float" has averaged roughly €20 million per year.
2) Asset-light business, especially in CPoR – Tessi supports €262 million in sales with just €22 million in net fixed assets.
Documents/marketing (the core business) is service-based. For CPoR, once the infrastructure/vaults/security is in place, there is little additional investment requirements as Tessi's "product" in CPoR is essentially currency and/or gold – therefore, the cost of handling incremental transactions is negligible.
Combine these factors together and Tessi is generating ROIC north of 50%:

CPoR Acquisition = Game Changer
"Admittedly, when people a century from now are fearful, it's likely many will still rush to gold." – Warren Buffett, Berkshire Hathaway

"The world seems more uncertain today than at any other time in my life."– Howard Marks, Oaktree Capital
In 2005, TES paid €41 million for 80% of CPoR Billets (now CPoR Devises) in a break from its traditional document/marketing focus. The remaining 20% ownership is held by Crédit Agricole, which plans to eventually divest its stake.
CPoR supplies gold and foreign currency to all of France's banking and financial institutions, with a market shares of 90% in forex and 95% in gold.
Dominant market share + little capital requirements = high margins/returns
In 2011, Tessi's CPoR segment generated €27.4 million in operating profit at 43.6% margins from just €16.5 million in assets, for an ROA of 166%. As a broker, CPoR is leveraged to both price and volume of gold transactions, so in times of crises, results are boosted doubly.
With investor's traditional view of gold as a safe haven, CPoR serves as a natural hedge during market crashes. As evidence, CPoR grew right through the recession, with margins increasing 1300bps in the last five years: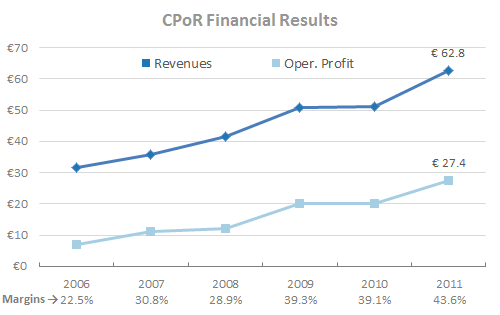 Gold investment statistics also show the demand increase since 2008: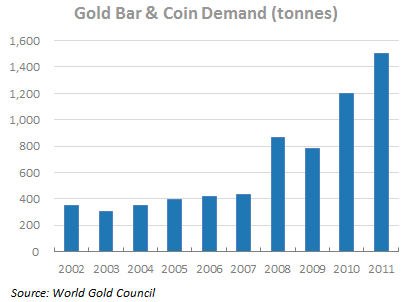 This increased demand has driven up gold prices: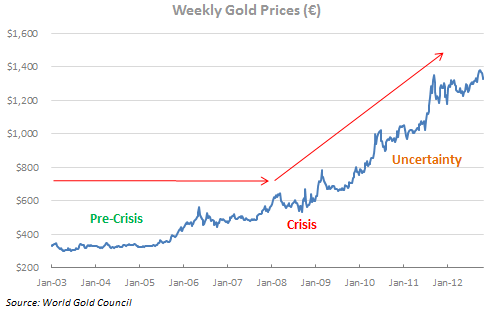 Here is the revenue breakdown of the CPoR division through 2006 (TES does not break out profit-level details between gold and forex):
Margins have improved dramatically as gold has become a greater percentage of CPoR's overall results.
Critically, the market is pricing in a decline in this business, as analysts are forecasting negative 5-7% annual growth in CPoR revenues from 2012-2014.
In order for revenues to fall by this amount, CPoR would have to see a decline in either gold volume or gold prices that was not counterbalanced by an increase in the other component.
Here's how the company is doing on those two fronts:
Gold Prices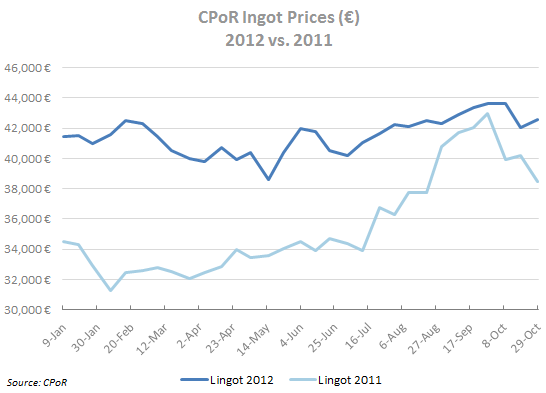 While prices have moderated in the last several months, average gold prices are still 17.5% above 2011 levels.
Gold Volumes
Tessi handled 15 million tonnes of gold in 2010. While volume was not disclosed in 2011, CPoR revenues grew by 36%.
In 2011, average gold prices were up 22%, which would imply an 11.7% increase in volume (this analysis is overly simplistic, but should be directionally correct):

Considering the YoY increase in gold prices for 2012, volumes would have to decreases markedly (by around 15%) for gold revenues to stay flat – and fall even further to justify analysts' poor outlook.
Through the first six months of 2012, CPoR revenues were up 5.6% YoY, only to fall behind with the Q3 report. It is unclear whether this was due to gold or forex.
However, there are other factors that could mitigate this trend in Q4 and into 2013, lending credence to the possibility that analysts are being overly conservative:
The roll-out of more affordable gold ingots: CPoR released a series of very popular 50-500g ingots in 2011, which generated 2.4 million tonnes of new business in their first year. Last month, the company released a 5g, 10g and 20g version. With prices now starting as low as €225, these new ingots are within reach of many more people and volumes should improve (possibly dramatically) in Q4 and beyond.
The improving tax environment for gold: Historically, sales of physical gold in France were taxed at a flat-rate of 8% regardless of whether the sale generated a gain or loss, which limited demand. In September 2012, a law was passed which modified the tax treatment for gold, increasing the attractiveness for new investors by offering a:
Choice of the most advantageous taxation system (either the 8% flat-tax or a 34.5% capital gain), depending on the gain obtained and the holding period
Total tax exemption after a period of 12 years
No tax due in the event of a capital loss, irrespective of the holding period
Since 2011 was such a record-breaking year for CPoR, similar growth is unlikely – at the same time, annual revenue declines of 5-7% and margin contraction of 500-700bps (what the Street is forecasting) seems too pessimistic as well.
Valuation
Here are relevant comps for the marketing/document (core) side of Tessi: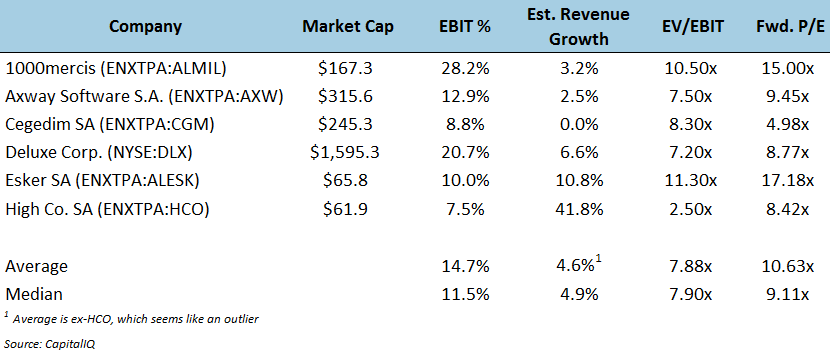 Assuming the core business grows at 3% with 10% margins, the fair market value of this segment alone would be €133 million versus Tessi's market cap of €200 million: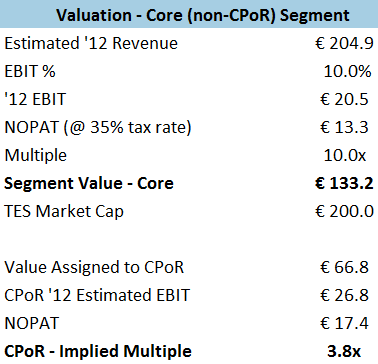 Therefore, a buyer in Tessi gets a stake in CPoR – a business that enjoys 40%+ margins, 50%+ ROIC and a monopoly position in its niche market – for €67 million, or less than 4x earnings.
Here is how the valuation of CPoR might break down: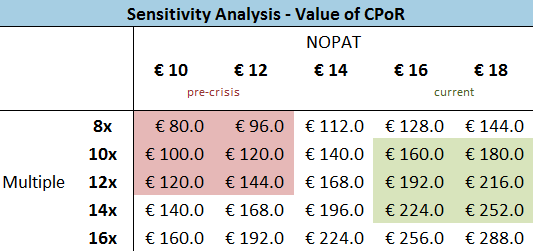 If current earnings continue, CPoR is worth €160-252 million (midpoint of €206), or 4-6x its implied price.
Even if I'm wrong and both gold demand and prices drop sharply – i.e. margins/NOPAT fall to pre-crisis levels – CPoR is still worth at least 150% more.
Here is a sum-of-the-parts valuation: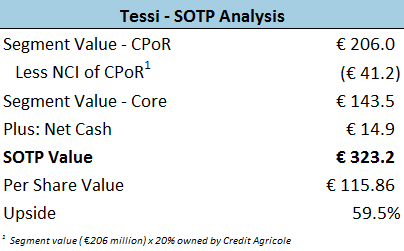 As a sanity check, Tessi has been able to convert an average of 131% of earnings into FCF over the past ten years.
With '12 earnings estimated in the €30-31 million range, Tessi should generate close to €40 million in FCF, for a yield of 20.1%.
Add in inflation (2%) and organic growth (3-5%), and Tessi's forward FCF yield is north of 25%.
Conclusion
"What I'm telling you is that the bulk of the return of the indices—and not just in the United States, but in all nations, the bulk of the return was earned by these owner-operators." – Murray Stahl, Chairman of FRMO Corp.
Marc Rebouah is the Chairman and CEO of Tessi, controlling just over 50% of shares outstanding. Tessi is a classic owner-operator (Rebouah has been in charge since he purchased Tessi in 1979), and demonstrates how much value can be created by a smart management team combined with a long-term view.
Rebouah is now 68 years old, and according to company bylaws, he has to step down as Chairman in January 2014. A sale of the company is a possibility, but I'm hopeful that current management will remain involved in strategic decisions at some level.
If the next ten years are even half as good as the prior, an investment in TES should work out quite satisfactory…
Disclosure
Long Tessi (TES)