Advant-E is a small e-commerce software company that is showing strong growth while remaining undervalued by the general market.
As a tiny player in the huge Information Technology field, ADVC has managed to carve out a solid niche and continues to throw off cash at impressive margins.
While many software companies trade at outsized multiples which reflect the general attractiveness of the industry (margins are certainly impressive in the software business), ADVC trades with a P/E ratio of under 10.
Despite increases in revenue, EBIT, and net income during this past year, the stock price actually declined in 2010, closing the year trading at multiples below its long-term averages.
Industry and Technology Overview
Sales are broken out into two reporting segments:
Edict Systems
Edict Systems offers Software-as-a-Service (SaaS) solutions primarily to small and medium businesses to assist in Electronic Data Interchange (EDI), a fancy term for the act of sending and receiving business documents (such as purchase orders) electronically using a standardized format.
In the retail space in general, large purchasers have significant power over the wide array of small and medium suppliers that hope to gain their business.
Once a large purchaser starts conducting business via EDI – an attractive ROI proposition for a big company – they force their suppliers to comply or face significant financial penalties.
Edict Systems provides an easy-to-use web-based EDI solution at a low price point, ranging from $50 – $250 per month, for suppliers to convert and send their documents electronically.
Unusually, Edict charges the suppliers, and allows the large purchaser to get the benefits for free.
This means other suppliers must pay to stay competitive, or potentially lose a large customer.
As more documents are sent using EDI – signifying that the supplier is theoretically making sales – ADVC shares in that success via their volume pricing, a nice business model.
Merkur Group
The Merkur Group is more of a traditional IT business, offering software and services that are delivered on-site and hooked into existing Supply Chain Management (SCM), Customer Relationship Management (CRM), and Enterprise Resource Planning (ERP) systems – the lifeblood of any decent-sized retail organization.
Merkur offers a number of different services around document delivery such as fax automation, sales orders, and accounts payable processing.
Integration with existing enterprise toolsets is not cheap, usually requiring services work to complete the installation. Merkur therefore has lower margins than the internet side of the business.
Financial Results
Overall, revenues were up 8% in 2010 to $9.3m compared to $8.6m in 2009, with the majority of the increase driven by Edict Systems.
Edict Systems showed strong growth among its various product lines, with the Grocery and Automotive products seeing 11% increases respectively compared to 2009.
Fourth quarter results were down slightly from the 3rd quarter, but the company has still managed an impressive track record of sequential growth: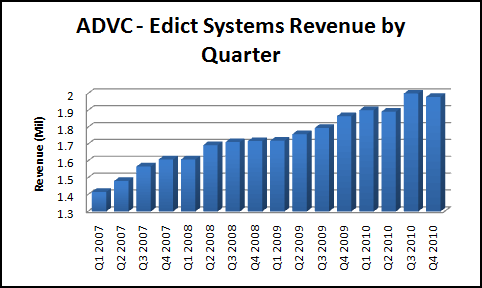 The Merkur Group managed to squeak out a 2% sales increase.
Despite a rough showing in the first quarter of the year (sales were down $140k from the same quarter in 2009), the Merkur segment showed 3 consecutive QoQ revenue increases to finish out the year.
The company has set a target of 20% pre-tax margins across the business units. Combined, the two segments earned $2.4m in operating income, for a pre-tax margin of 25.8%.
Reported net income was $1.59m, up 33% from the $1.19m in 2009, for an annual EPS of $0.024 based on 66.7m shares outstanding.
Management
Avant-E is a closely held corporation, with the CEO and founder Jason Wadzinski owning 54.8% of shares outstanding.
He has been at the company for over 20 years, and struggled through the hard times before the company started taking off in 2003 after making the transition to the SaaS model.
In a profile last year, Wadzinski describes the challenges of growing the business and the importance of taking a long-term view.
There is no doubt that ADVC is Mr. Wadzinski's company, but he seems to be a prudent manager and draws a very reasonable salary.
In fact, despite a record year in 2010, his annual salary actually declined from $220k to $160k.
He has already demonstrated a commitment to returning cash to shareholders by paying a special dividend last year, saying
"The purpose of the cash dividend is to reward the Company's shareholders, many of whom have been shareholders for a very long time, and to enable them to likely take advantage of favorable Federal income tax treatment that is scheduled to expire at the end of 2010."
Valuation

Many acquisitions in the software industry are based on a sales multiple.
As a group, stocks within the computer software sector trade for 3.4x EV/Sales ; ADVC is currently trading at a 1.3x multiple.
While some discount is warranted due to the closely held nature of the firm and small size, even a 2x multiple would translate into a fair value of $0.32, or nearly 40% upside from current prices.
Traditional metrics are low as well, with the company trading at an EV/EBIT of 5.2 and EV/FCF of 7.8.
Assigning more realistic multiples of 10x EV/EBIT and 15x/EBIT would allows room for 100% upside from the stock's current market price.
Negatives
Software is a rapidly changing field and notoriously difficult for value investors.
There is a long list of software companies that relied on once-promising technology only to be quickly obsolete when faced with an upstart competitor with a new twist.
In addition, the company's founder, Jason Wadzinski, controls ADVC without a group of independent directors assigned to look after shareholders' interests.
Theoretically, large insider ownership helps align interests, but this is an extreme case where the CEO holds most of the power and could make decisions at odds with the best interest of minority holders.
Conclusion
Advant-E is a stock that has effectively captured a nice market niche, and an example of the powerful economics and attractiveness of software companies.
Average ROE of 30% and CROIC of 65% show-off the tremendous power of a well-run software company, and the stock currently has a FCF yield over 10%.
Despite these phenomenal numbers, the stock should still appeal to value investors looking for a solid business at a low price.
ADVC boasts over 4000 customers, and the business does not show any signs of slowing down.
The latest press release hits on some of the high points from 2010:
Edict Systems revenue increased for the tenth consecutive year
Net income exceeded $1 million for fourth consecutive year
2010 marked the eighth consecutive year the company has reported a net profit
Exceeded goal of 20% pre-tax profitability in 6 out of last 7 years
Looking into 2011, the company is making an investment in upgrading its Web EDI platform to add superior functionality and greater customer value, which could temporarily depress earnings during the migration period.
Although this initiative might depress earnings over the next few quarters, it is another example of making investments with the eye towards the future.
The company now sits on $2.9m in cash offset by no outstanding debt. Hopefully management can find a way to continue re-investing that cash into the business at attractive rates of return.
Although as a shareholder, I wouldn't complain about another special dividend!
Disclosure
Long ADVC