Acme United Corp (ACU), a supplier of cutting, measuring and safety products, reported 2nd quarter results this week. ACU is another small undervalued stock in a boring business line that has been overlooked by the market.
The stock was hit hard during the recession, and is slowly starting to regain its 2006-2008 levels.
Sales Analysis
For the 2nd quarter, ACU reported $20.2m in revenues, a 7% increase from the prior year, and the second highest revenue quarter in company history.
Growth was driven by the company's European segment, as sales increased 64% vs. a 1% increase in the domestic market.
Impressive growth? Sure…
But European sales accounted for only 12% of total revenue last year and didn't record a profit.
Turning in a profitable year for the European segment could be one key to to the company's growth going forward, especially if U.S. sales continue to lag.
Adjusted Earnings
Net income jumped 17% from the year ago quarter, but this increase was driven largely by a tax benefit related to a land donation transaction back in Dec 2009.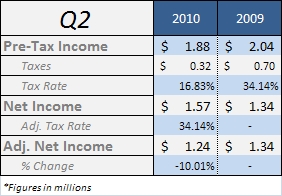 Adjusting for the lower tax rate, net income dropped 10% for the quarter.
Management
Despite the business struggles, management continues to deliver value to shareholders in other ways.
The company has increased the cash dividend for five straight years, and paid a dividend going back to 1990. The stock currently yields 2%.
The company is also aggressively buying back shares – 241k in the past twelve months (7.1% of outstanding). Another 83,376 shares are still available under the current repurchase program.
Valuation
My original analysis of ACU back in January assigned a value of $17-$19, but the business has not bounced back as quickly as I hoped.
Even with conservative assumptions, the company is still trading at a substantial discount to intrinsic value: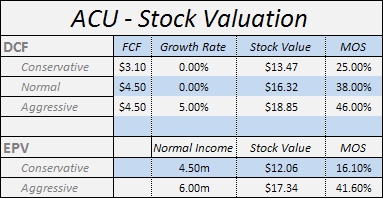 I'm revising my estimate of intrinsic value to $14-$16.
Conclusions
Since U.S. sales make up the vast majority of revenue, ACU's future outlook is heavily dependent on the domestic economy.
Historically, the 2nd and 3rd quarter are the most profitable for ACU's business, so the next earnings release will be good barometer for my future decisions with this stock.
Disclosure
Long ACU