Techprecision, Corp (TPCS) reported fiscal fourth quarter and full year results last week – the stock has been hammered in the week since.  Yearly results still reflect the order cancellation from the Company's largest customer, GT Solar, in April 2009.
Although orders have picked up again from GT Solar, this event threw off the Company's numbers for the entire year.
Financial Results
Sales decreased 25.7% for the fiscal year, with EPS dropping from $.23/share to $.15/share, primarily driven by lower sales and margins.
As part of the order cancellation in April 09, TPCS sold off a large chunk of raw material at much lower margins than usual. I'm anticipating gross margins should return to near 2008/2009 levels, with the Company reported 4th quarter margins of 40.3%.
Total debt to equity has dropped slightly from .7 to .63. The Company also reduced diluted shares outstanding by almost 5m:
On August 14, 2009, the Company entered into a warrant exchange agreement pursuant to which the Company agreed to issue 3,595,472 shares of Series A Convertible Preferred Stock to certain investors in exchange for warrants to purchase 9,320,000 shares of common stock. The warrants carried exercise prices ranging from $0.44 to $0.65 per share.
Owner earnings came in at 1.5m for the fiscal year.
Key Metrics
Revenue Composition
Defense and Nuclear were both up a decent amount in 2010 on a percentage basis. Nuclear was one of the exciting growth prospects I identified in my original writeup of TPCS, so it's encouraging to see an increase there.
Despite the Company's efforts to broaden their sales composition, Alternative Energy still makes up 52% of total sales.
Backlog
Order backlog stood at $21.5m on March 31, 2010, an increase of $5.8m from the previous quarter.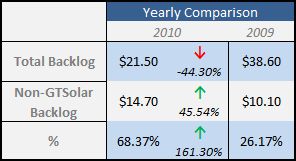 Although the raw numbers are down, non-GT Solar backlog has increased significantly, both in dollars and percentage of total backlog. This is a very good sign as the Company tries to mitigate the risk of being dependent on such a large customer.
Conclusion
The market has not treated TPCS kindly this year, as it is very easy to focus on the sharp decrease in sales and income.
Could an order cancellation happen again? It's possible, but, I think it was largely a one-time event that unfortunately affected the Company for the entire year.  In any case, TPCS's future outlook is better positioned to handle such an event.
On the positive side, quarterly results show signs of stabilization, with increasing demand from not only GT Solar, but also the other business segments.
According to TPCS's CEO,
"We have seen three consecutive quarters of steady improvements throughout the industries we serve and increased activity including requests for proposals and expanded sales activity."
Based on 2010 numbers, I will probably lower my intrinsic value target, but I still think TPCS offers at least 50% upside at its current price. After TPCS reports Q1 numbers, I think the stock will get a boost, as the results will show a much cleaner picture of how the business is executing its strategy.
Disclosure
Long TPCS.